Hi friend. Today I want to share with you something I made for a client who was exploring and discovering The Woodlands for the first time as a future buyer. This blog post is the email I sent her for her first visit.
She wasn't sure where she wanted to live, and she wanted to explore more than just The Woodlands, although The Woodlands was high on her interest lists. I understand why someone might not want to narrow down their options on their first visit.
I also understand that folks visiting with the intentions to eventually purchase, also want to see homes in person, not just in photos. That is why I recommend your visit should include a Saturday or Sunday, so that you can attend an open house.
General Suggestions for Restaurants Etc.
Restaurants
- Schilleci's New Orleans Kitchen (I am always craving the shrimp poboy. Lol.)- Fogo de Chao (If you like meat!)- Thai Cottage (I crave this twice a week. Pad Thai for the win.)- Escalante's Fine Tex Mex (Mmmmmm!)- The Kitchen (omg so good)
- House of Pies (a Houston thing, and they finally opened one in The Woodlands!)
- Amerigos Grille (best kept secret of The Woodlands)
- Visit this link for a link to all of my recommended restaurants.
Must See
- Town Green
- North Shore Park
- Market Street
- Hughes Landing
- The Waterway
You really cannot go wrong anywhere that falls on this map.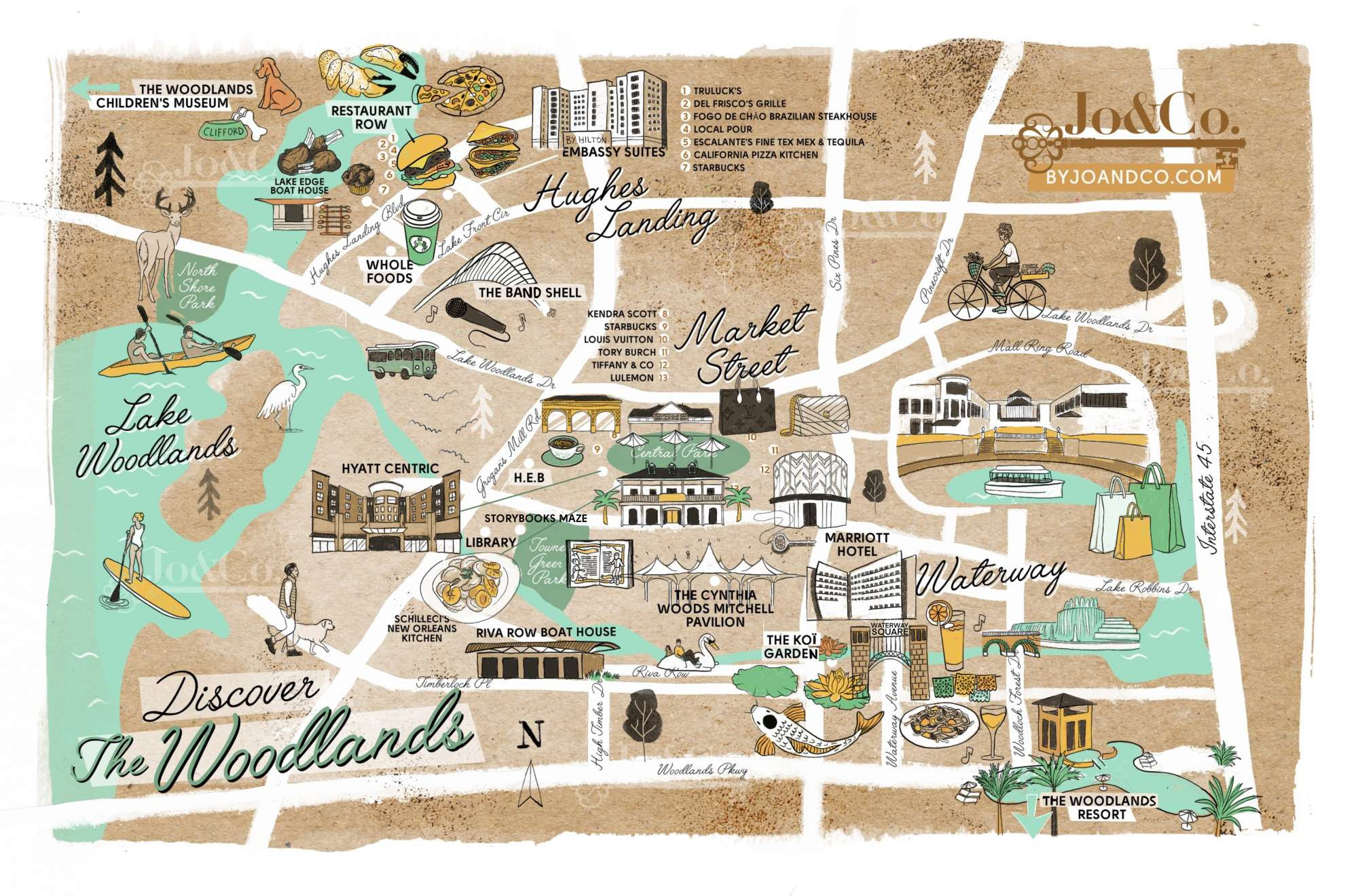 Hughes Landing
Lakes Edge Boat House - You can rent kayaks and paddle boards.
Beautiful views of Lake Woodlands - Lots of "look out" spots to sit and relax.
The Band Shell - A beautiful stage for the concert series and public events.
Restaurant Row - Del Frisco's Grille, Fogo de Caho, California Pizza Kitchen, Truluck's, Local Pour, and Escalante's Fine Tex-Mex and Tequila.
Whole Foods - A healthy grocery story with a food court and buffet. Starbucks - A popular coffee chain with indoor and outdoor seating.
Market Street
The Ice Rink at The Woodlands Town Center - Once housed temporarily in a local parking lot, the ice skating rink is a local winter favorite, and now has a permanent home next to the pavilion.
Central Park - One of the most popular parks in The Woodlands, Central Park is just a big stretch of grass. One must visit it to truly appreciate it. Art, monuments, and memorials can be viewed on the outskirts of the park.
Storybook Maze - Found between Central Park and the library, this attraction is one of my favorites to visit when I want to unwind with the kinds. Brings be back to a simpler time.
Market Street Green - At the heart of market street is a newly designed park with splash pad, seating, tables & chairs, restaurants on each end, a Starbucks, and top-notch shopping/restaurants around the loop. It really is one of my favorite places to detox. This is where you can find the giant beautifully lit Christmas tree during the winter holiday!
H-E-B - If you haven't yet experienced an H-E-B grocery store, Market Street houses a Central Market by H-E-B.
The Waterway
Take a stroll - The Waterway is probably one of my favorite places to take a walk. Not only does it wind through Town Center, but it connects all of the attractions along its path.
Waterway Square - This space can be simplified as a concrete park housing a mini concert stage, a splash pad, and the front steps of many restaurants, while being a little community hub.
Restaurants & Night Life - The Waterway District houses the best restaurants and nightlife. If you are craving pizza, Mexican, or something new, this spot is a go to.
The Koi Garden - Located on the south side, near the tall condo buildings that look like apartments (One Lakes Edge & Two Lakes Edge) is a public koi garden with a walking path. It is a site to see.
Riva Row Boat House - Here you can rent kayaks, pedal swans, and paddle boards!
Waterfall - Where the waterway and lake meet at the Riva Row Boat House is a beautiful waterfall feature. Be sure to check it out!
Parks
Northshore Park - Northshore Park is the only park with a playground located on the lake, making it an absolute favorite. It is quite large in size and even hosts a Concert in the Park series (September - October) each year. Northshore also houses bbq pits, swings, playground equipment, restrooms, volleyball courts, fishing, and more!
Timarron Park - Timarron Park, I am almost certain is the most popular quaint neighborhood/village park. It can be found tucked away in Creekside Park and boasts the largest splash pad in all of The Woodlands! There are basketball courts, BBQ pits, a parking lot, pavilions, picnic tables, restrooms, tennis courts, swings, and separate playing structures for young children and older children.
Town Green Park - Just had to add it to the list, even though it is listed above.
Rob Flemming Park - Found within Creekside Park (the newest village of The Woodlands), The Rob Flemming Park is one of the largest parks in The Woodlands. It houses The Recreation Center, countless parks, a dog park, the archery range, and the Texas TreeVentures (rope course attraction).
George Mitchell Preserve - This 1,800-acre preserve connects the adjacent forest, Spring Creek Greenway, with Creekside Park, The Woodlands. The nature trails are favorites for many local bikers and hikers.
Last but not least..
East Shore - If you are looking to walk, bike, or drive by some of the most beautiful homes in The Woodlands, East Shore is one of the most accessible spots to do just that. The architecture found in this enclave makes it a site to see. It is also the most popular place to call home, if wanting to live on the lake.
The Woodlands Mall - The Woodlands Mall is a fun shopping and dining destination. If you are new to Texas, be sure to drop by the Chick-fil-A. Just know it is closed on Sunday.
Creekside Park Village Center - Every village in The Woodlands has a village center. Creekside Park just so happens to house the most popular village center. It is similar to the one found in market street, with a handful of restaurants, a candy shop, ice cream shop, grass area with splash pad, and so much more. Across the street you will find an H-E-B and a brand new shopping center that houses a movie theater!
Cynthia Woods Mitchell Pavilion - The Cynthia Woods Mitchell Pavilion might just be the most popular attraction in The Woodlands. The Pavilion consistently ranks in the Top 10 Outdoor Amphitheaters in the World. In 2018, it ranked No. 4, based on the number of tickets sold throughout the year. The long list of past performers here includes Jimmy Buffett, Dave Matthews Band, Ozzy Osbourne, Jack Johnson, Alabama, Lynyrd Skynyrd, Kenny Chesney and Frank Sinatra. You can also catch performances by the Houston Symphony, Houston Grand Opera and Houston Ballet here. Located on The Woodlands Waterway, walking distance from Market Street, Waterway Square, and Town Green Park. The Woodlands
Children's Museum - Let your kid's imagination run wild at The Woodlands Children's Museum. This colorful wonderland has all the tools for the little ones to play, pretend and grow.
Play Street Museum - Your kids will have fun imagining and pretending in our town square or exploring the many interactive exhibits and kid's activities in their educational play space. Adults are welcome to join in on the adventure, or sit back and relax while their children discover a world that is just their size in our interactive children's museum.
The Woodlands Resort - Escape to a true oasis in the woods: The Woodlands Resort. The drive up the tree-lined path, through a championship golf course, to this resort on Lake Harrison sets the tone for a fun-filled, relaxing retreat. Spread across the resort grounds studded with lagoon-style pools, you'll find plenty of meeting space, multiple restaurants, bars, and a lazy river. The Woodlands Resort—your private paradise—is popular for destination conferences and retreats and makes for a great family vacation as well.
Villages of The Woodlands to Drive Through
Random list I think you should look over:
Model Homes to Check Out
1. Woodforest (Montgomery)
2. Bridgeland (Cypress, same developer of The Woodlands)
3. Grand Central Park (Conroe, but close to The Woodlands)
4. The Woodlands Hills (20 minutes north of The Woodlands, same developer)
5. Harper's Preserve (Next to The Woodlands, East of I-45)
6. Woodson's Reserve (East of I-45, off Grand Parkway 99 in Spring)
7. Cross Creek Ranch (Fulshear, near Katy and Cinco Ranch)
8. Stillwater (Conroe, but same schools as The Woodlands. Nicer than the one below, so more expensive for price per square foot. Your budget is the bottom of the price point in this neighborhood.)
9. Foster's Ridge (Conroe, but same schools as The Woodlands. Your budget is the top of the price point in this neighborhood.)
10. Harvest Green (Richmond is the city. South of Katy.)
11. Woodtrace (Tomball/Pinehurst)
12. Artavia (East Conroe. Schools have low ratings, but it is an up and coming neighborhood.)
13. Amira (Tomball)
Woodforest, Montgomery, Texas
Jo & Co. Woodforest - YouTube Playlist | https://www.youtube.com/playlist?list=PLtEo3DBM7m_OTrn9RXGjX-6OkuKDssW0Z
Open Houses | LINK
Woodforest has model homes you can check out! https://www.woodforesttx.com/home-builders

Village of Creekside Park in The Woodlands Tomball, TexasJo & Co. Creekside Park - YouTube Playlist | https://www.youtube.com/playlist?list=PLtEo3DBM7m_P1xs3TuBPP2Xp5_C5Q54QUOpen Houses | LINK
Established Parts of The Woodlands, Spring, TexasJo & Co. The Woodlands - YouTube Playlist | https://www.youtube.com/playlist?list=PLtEo3DBM7m_OBQjN_tqxrVMeYqZGF-NRw
Open Houses | LINK

Bridgeland, Cypress, Texas
Cypress, Texas - YouTube Playlist | https://www.youtube.com/playlist?list=PLtEo3DBM7m_OrJXp1YgDmf4FaqZC5qpPn
Open Houses | LINK
Bridgeland has model homes you can check out! https://www.bridgeland.com/

Stillwater, Conroe, Texas
Driving Around Stillwater Video | https://www.youtube.com/watch?v=qeTiXX7GRd0&t
Open Houses | LINK
Stillwater has some model homes you can check out! https://stillwatertx.com/

Woodson's Reserve, Spring, Texas
Driving Around Woodson's Reserve Video | https://www.youtube.com/watch?v=JaNFy3oL-rY&t
Open Houses | LINK
Woodson's Reserve has model homes you can check out! https://woodsonsreserve.com/

Woodtrace, Tomball, TexasJo & Co. Driving Around Woodtrace Video | https://www.youtube.com/watch?v=3TDXKVnMCBk&t
Open Houses | LINK
Woodtrace has model homes you can check out! https://woodtracecommunity.com/
Klein ISD Neighborhoods (Established)
1. Memorial Northwest (Mine. Was more established as a tennis club neighborhood. The "club" isn't fancy like it used to be, but still a nice neighborhood with an awesome pool and the best elementary school around. I walk my kids to school.)
2. Gleannloch Farms (Golf course & country club! Sister club to Augusta Pines.)
3. Windrose (Golf course community. low key.)
4. Champion Forest (A little south of where I live. Very established. Was a golf course community, but the golf course was next to a creek that would flood, so the county bought the land, and will turn it into a gorgeous park with retention. We biked it the other day. So beautiful!)
5. Auburn Lakes, Augusta Pines (Golf course & country club! Sister club to Gleannloch Farms.)
Final Words
Evergreen link to open houses in The Woodlands: https://www.har.com/s/59d22670b5c.
I have a small team that can help me with showings. Kalie, my right hand, happens to be a licensed real estate agent, and Edward, my husband, also steps in when I can't show homes. You will love them both!
Reach out to me prior to your visit by scheduling a call. That way, I can put your visit on my calendar. I can also cater my recommendations to your budget, needs, and desires.
If you would like to have an in person chat with me during your visit, please don't be shy.
Once we have had a call or exchanged emails, then I recommend saving my number into your phone, so that you don't feel lost or alone during your visit.
If you are considering the "Klein" area, then don't forget to check out The Vintage. It is similar to Market Street, but different.
Just keep in mind there are two types of buyers, and you need to know which one are you. So the two types: 1. You are a house buyer (you care most about what is within those four walls). or 2. You are a neighborhood buyer. Although I happily work with both, neighborhood buyers are my favorite. They are making the most educated decision. They first home buy by narrowing down to a neighborhood or some neighborhoods or "an area". This streamlines the home buying process and eliminates overwhelm.
We are so happy you found our little corner of the interwebs. We look forward to y'all reaching out to us. We love to answer questions and welcome them. Recently we created some local maps, and you can download those by clicking the image/link above. Below, you will find an index of some very helpful information to assist you in learning more about the Houston suburbs. If you are relocating to our neck of the woods, we hope you reach out to us, because we would love to help you by being your local realtor and friend. Hugs, Jo.
Thoughtfully written for you by Jordan.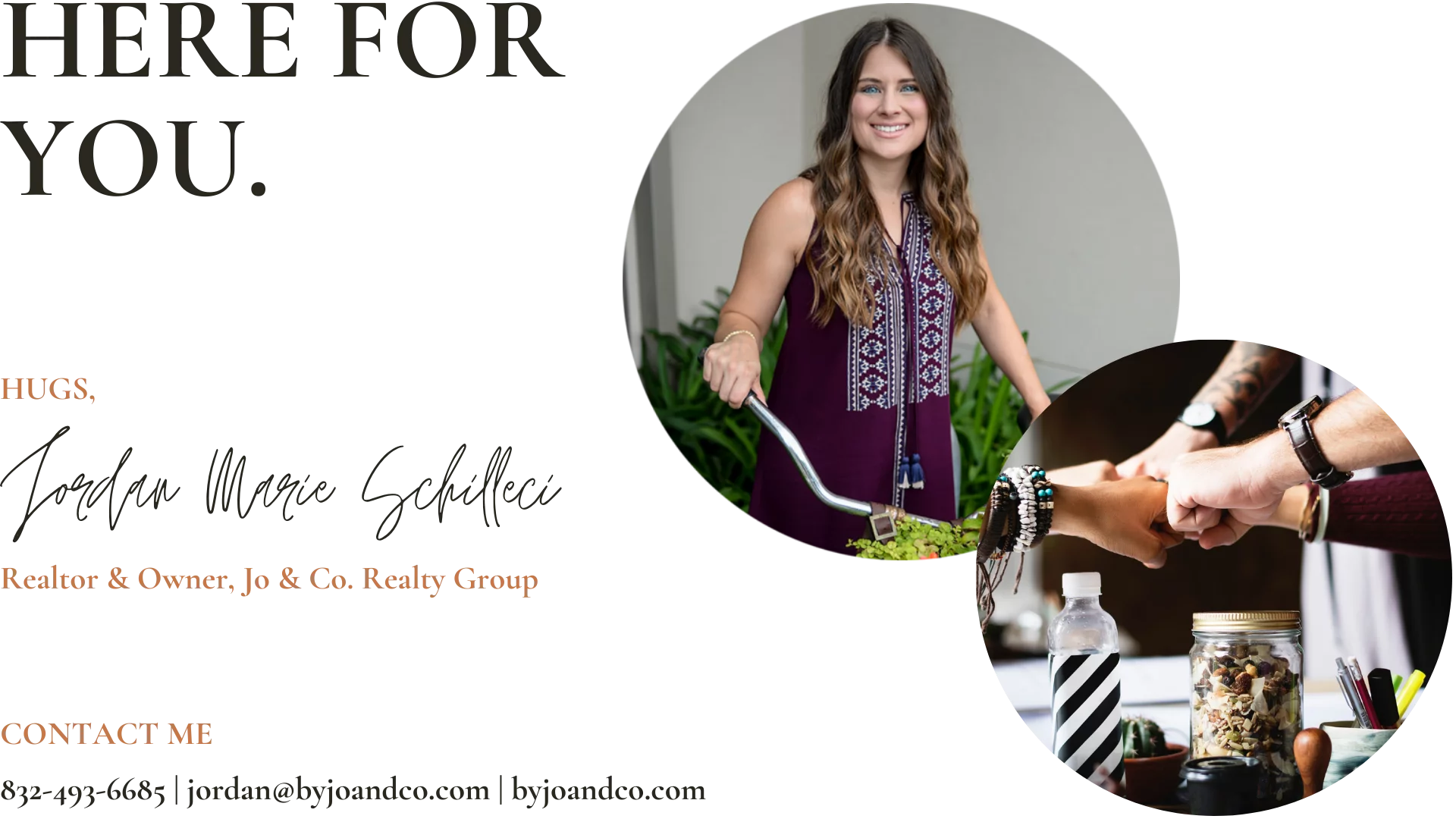 We are Waiting for You
If you are looking to relocate to the Houston Area, we would love to meet you, and hear your story. Below you will find all of my contact information, as well as some homes for sale in the area. We truly look forward to hearing from you! P.S. Don't forget to check out our YouTube Channel!

If you are overwhelmed..
Now if you are feeling overwhelmed on where you should plant your roots, I would love to talk to you. You can schedule a call with me by click this link: http://byjoandco.com/call or just send us an email: jordan@byjoandco.com. There are some amazing communities all over the Houston suburbs. In this post, https://search.byjoandco.com/blog/best-neighborhoods-in-houston/, I deep dive into all the different suburbs/neighborhoods that you might want to consider, and why. There are many resources here, so please reach out if you are curious what to look at next! Thank you for trusting us.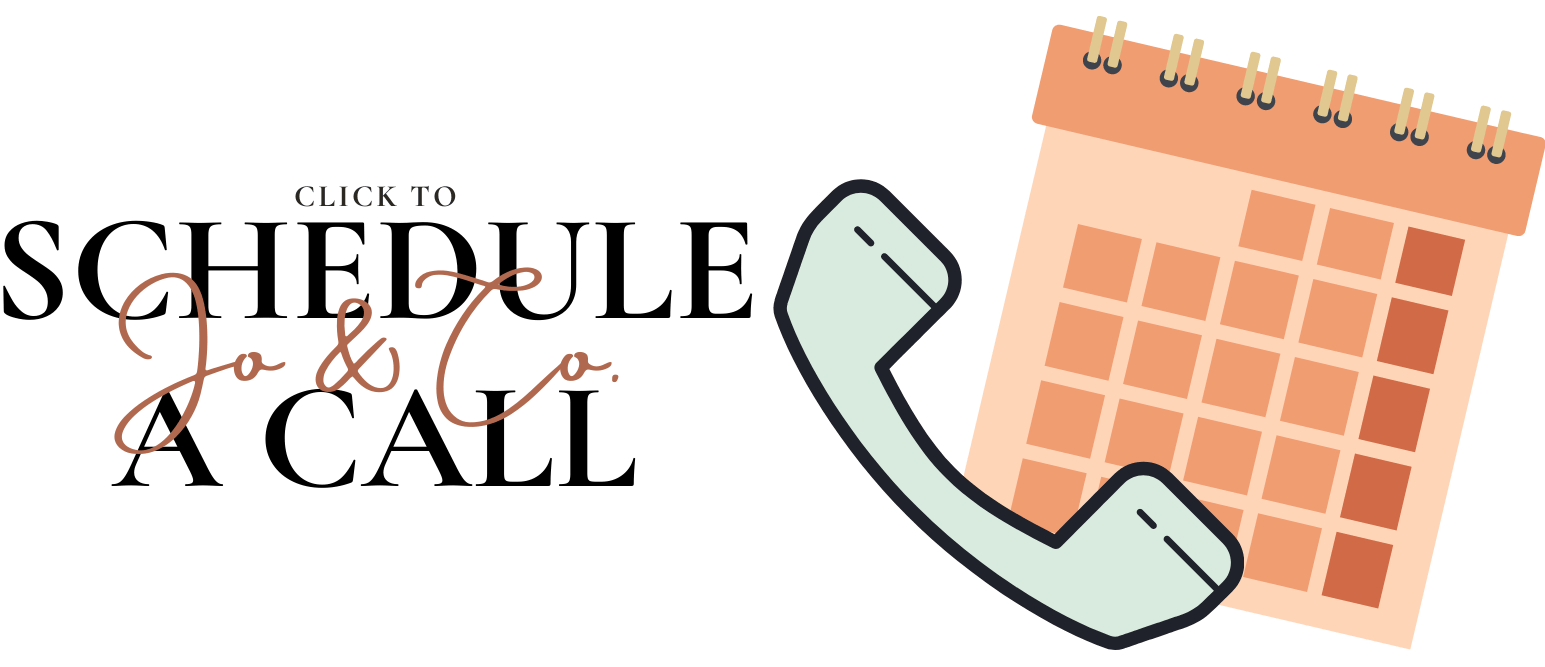 Links to check out..
➟ Our YouTube Channel :: http://byjoandco.com/youtube
➟ How do property taxes work in Texas? :: http://byjoandco.com/propertytaxesintexas
➟ Things to do in The Woodlands :: http://byjoandco.com/inthewoodlands
➟ Safest Neighborhoods in Houston :: http://byjoandco.com/safesthouston
➟ Best Neighborhoods in Houston :: http://byjoandco.com/bestneighborhoods
➟ Houston Texas Where to Live :: http://byjoandco.com/houstontexaswheretolive
➟ First Time Texas Home Buyer :: http://byjoandco.com/firsttimetexasbuyer
What next?!
• Download our Moving to Texas ebook! http://byjoandco.com/movingtotexasebook.
• Download our Where to Live in Houston Texas ebook! http://byjoandco.com/wheretoliveebook.
• Schedule a phone call or appointment with us! http://byjoandco.com/appointment.
• Email us! Jordan@byjoandco.com.
• Looking for a buyer's agent? Fill out our buyer questionnaire! http://byjoandco.com/q.
• Ready to find your dream home? Search, http://search.byjoandco.com.
• Subscribe to our YouTube Channel: http://byjoandco.com/youtube.

Visit the Jo & Co. YouTube Channel
At Jo & Co. we know that most people struggle with the home buying or selling experience. We are a brokerage, real people, that do more for you, by being with you every step of the way, so that you plant your roots in the right soil. One way that we go above and beyond is with the content we share on YouTube. Click the photo below to explore our channel.