The history of The Woodlands Waterway in The Woodlands, Texas, is a tale of transformation and vision that reflects the community's commitment to blending urban amenities with natural beauty.
1. Concept and Planning:
The idea for The Woodlands Waterway originated in the early 1990s as part of the master planning for The Woodlands community. The vision was to create a scenic water amenity that would serve both as a transportation corridor and a recreational attraction.
2. Construction and Development:
Construction of The Woodlands Waterway began in the late 1990s, with the main goal of creating a man-made water feature that meandered through the heart of the town. The waterway was designed to flow naturally, winding through lush landscapes, commercial areas, and residential neighborhoods.
3. Completion and Inauguration:
The first phase of The Woodlands Waterway was completed in 2004. It featured a beautiful stretch of water with walkways, bridges, and landscaping, creating a picturesque setting for leisurely strolls and outdoor gatherings.
4. Expansions and Enhancements:
Over the years, The Woodlands Waterway has undergone expansions and enhancements to further develop its potential as a vibrant urban corridor. The addition of water taxis and boats allowed for waterborne transportation, connecting different areas of The Woodlands and providing a unique way to experience the community.
5. The Waterway District:
The development of The Woodlands Waterway led to the establishment of The Woodlands Waterway District, an entity responsible for overseeing the management and maintenance of the waterway and its surrounding areas. The district's mission is to enhance and promote the waterway as a vibrant and accessible public space.
6. A Hub for Entertainment and Events:
The Woodlands Waterway has become a central hub for entertainment and community events. It hosts numerous festivals, concerts, and cultural events throughout the year, drawing residents and visitors to enjoy the scenic ambiance while attending gatherings and celebrations.
7. The Woodlands Waterway Arts Festival:
One of the most prominent events hosted along The Woodlands Waterway is The Woodlands Waterway Arts Festival, an annual event that celebrates the arts through various mediums like visual arts, music, and performing arts. This festival attracts artists and art enthusiasts from across the region.
The Woodlands Waterway stands as a testament to the community's commitment to creating a harmonious balance between urban development and natural beauty. From its conception as an idea for a serene water feature to its realization as a vibrant urban corridor, The Woodlands Waterway has evolved into a symbol of community spirit and a cherished destination for residents and visitors alike. Its winding paths, scenic views, and role as a venue for events and celebrations have made it a cherished and dynamic part of The Woodlands, Texas.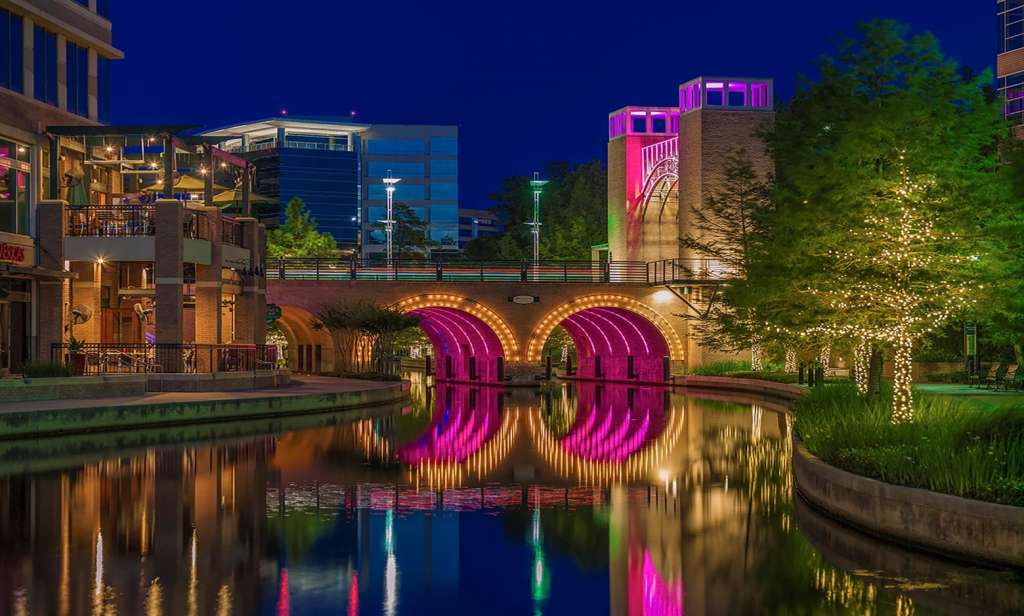 The Woodlands Waterway in The Woodlands, Texas, is a vibrant urban corridor that features a variety of establishments, amenities, and attractions built along its picturesque banks. As a central gathering place and recreational hub, The Woodlands Waterway is lined with a mix of commercial, residential, and entertainment spaces, offering something for everyone. Here are some of the key features built along The Woodlands Waterway:
1. Restaurants and Cafés:
Along the waterway, you'll find a diverse array of restaurants and cafés with inviting outdoor seating areas that offer scenic views of the water. These dining establishments cater to various tastes, ranging from casual eateries to upscale restaurants, serving a wide range of cuisines.
2. Shopping and Retail:
The Woodlands Waterway hosts a collection of boutique shops and retail outlets that offer a delightful shopping experience. From fashion boutiques to specialty stores, visitors can explore a variety of options while enjoying the picturesque setting.
3. Hotels and Accommodations:
Several hotels and accommodations are situated along The Woodlands Waterway, making it a convenient and scenic place for visitors to stay. The proximity to shopping, dining, and entertainment options enhances the appeal of these accommodations.
4. Office Buildings and Commercial Spaces:
The waterway corridor is also home to a number of office buildings and commercial spaces, providing a conducive environment for businesses. The scenic views and well-planned surroundings add to the overall work atmosphere.
5. Entertainment Venues:
The Woodlands Waterway is a popular destination for entertainment. The Cynthia Woods Mitchell Pavilion, an acclaimed outdoor amphitheater, is located nearby and hosts concerts and performances, attracting visitors from far and wide.
6. Parks and Public Spaces:
Scattered along The Woodlands Waterway are public parks and green spaces, offering opportunities for relaxation and leisurely strolls. These areas are well-maintained and provide peaceful spots for the community to enjoy.
7. Waterway Cruises and Activities:
Water taxis and boats cruise along The Woodlands Waterway, providing an enjoyable means of transportation and a unique way to experience the area. Visitors can take a leisurely boat ride while taking in the beautiful scenery.
8. Art Installations and Landmarks:
Throughout The Woodlands Waterway, you'll encounter art installations and landmarks that add to the visual appeal and cultural significance of the area. These pieces of art contribute to the vibrant and dynamic atmosphere of the waterway.
The Woodlands Waterway boasts a diverse mix of establishments and amenities built along its banks, creating a lively and engaging urban corridor. With its restaurants, shops, hotels, and entertainment venues, The Woodlands Waterway offers a rich and enjoyable experience for residents and visitors alike. The scenic views, recreational opportunities, and sense of community make it a cherished and vibrant part of The Woodlands, Texas.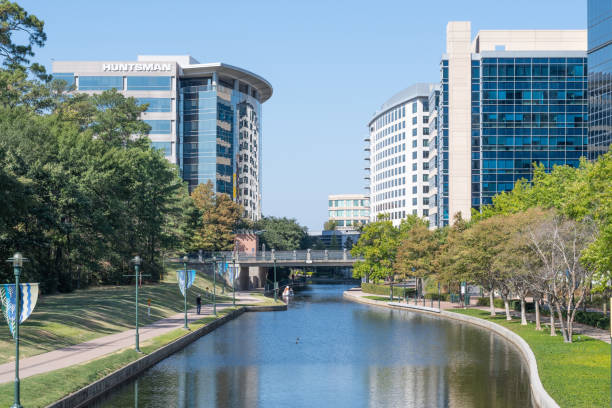 The future of The Woodlands Waterway
The responsibility for operating the Woodlands Waterway is undergoing a significant transfer from The Woodlands Land Development Co. to The Woodlands Township. As part of this transition, the township has allocated a budget of $400,000 to cover the expenses related to the operation for the remaining duration of the year.
It's important to note that The Woodlands Land Development Co. is currently owned by The Howard Hughes Corporation, making this transfer a notable shift in ownership and management of the iconic urban corridor.
With the township taking the reins of the Woodlands Waterway's operation, this move reflects a strategic decision to bring this beloved community space under local governance and ensure that it continues to thrive as a vibrant destination for residents and visitors alike. The allocated budget signifies the township's commitment to maintaining and enhancing the waterway's allure and preserving it as a cherished part of The Woodlands community.
Starting in 2025, The Howard Hughes Corporation (Howard Hughes) is planning to reduce its annual funding for streetscape enhancements to Town Center by $60,000 for a period of five years. This marks a significant change from the previous annual funding of $300,000. As part of this agreement, The Woodlands Township will be granted ownership of several parcels of property.
The parcels to be granted to the township include a sprawling 208-acre tract of land located on Gosling Road, south of the Creekside Park entrance. This vast area is designated for recreational development, providing ample opportunities for the community to enjoy outdoor activities and leisure.
In addition to the recreational tract, the township will also gain ownership of a 2.09-acre parcel of land situated near the Parks and Recreation Operation Center. This parcel presents exciting possibilities for future enhancement and expansion of the township's recreational facilities.
Furthermore, Howard Hughes will transfer a 24.31-acre tract of land located near the Bear Branch Recreational Facility, situated behind the recycling center. This additional space will likely serve as a valuable asset for the township's recreational planning and development.
To secure these parcels, The Woodlands Township will release its rights to a boat house parcel on Lake Robbins, relinquishing ownership of this area to Howard Hughes. Additionally, the township will also part ways with a parcel on Ashlane Way as part of the agreement.
This new arrangement signifies a strategic shift in funding allocation, allowing Howard Hughes to reduce its financial commitment to streetscape enhancements while enabling the township to gain valuable land for recreational purposes. Both parties are expected to benefit from this exchange, and it demonstrates a collaborative effort to further enhance The Woodlands community for its residents and visitors alike.
In conclusion, The Woodlands Waterway captures the hearts of residents and visitors alike for a multitude of reasons. This cherished urban corridor stands as a testament to the community's dedication to harmoniously blending urban amenities with natural beauty. Its picturesque setting, lined with charming shops, delightful restaurants, and inviting public spaces, creates an inviting ambiance that draws people in.
The tranquil waters of the waterway offer a serene escape from the hustle and bustle of everyday life, providing a place for relaxation and reflection. The carefully designed landscaping and well-maintained green spaces invite residents to take leisurely strolls and connect with nature amidst the bustling urban environment.
Beyond its scenic beauty, The Woodlands Waterway fosters a strong sense of community spirit. It serves as a central gathering place, hosting a plethora of events and cultural celebrations throughout the year, bringing residents together in a vibrant and cohesive manner.
The waterway's role as a recreational hub further solidifies its appeal. The availability of water taxis and boat cruises adds an element of adventure, providing residents with a unique and enjoyable means of transportation and sightseeing.
Ultimately, the love for The Woodlands Waterway stems from its ability to provide an all-encompassing experience - from its tranquil beauty to its vibrant community engagement. As the waterway continues to evolve under the care of the community, its allure will undoubtedly endure, remaining a cherished and irreplaceable part of The Woodlands lifestyle for generations to come.
BLOGS YOU MIGHT FIND INTERESTING:
→ Other The Woodlands TX Related Blog Posts – The Woodlands TX Category
→ Your Visit to The Woodlands TX– Link.
→ Summer Guide The Woodlands TX – Link.
→ Things to do in The Woodlands TX – Link.
→ The Woodlands TX Relocation Guide – Link.
→ The Woodlands TX Youtube Playlist – Link.
→ Food trucks to track down in The Woodlands TX – Link.
I hope you found this blog post helpful. If you are thinking about relocating to Houston or the Houston suburbs, I hope you reach out to me. I would love to be your REALTOR® and your resource.
We are so happy you found our little corner of the interwebs. We look forward to y'all reaching out to us. We love to answer questions and welcome them. Recently we created some local maps, and you can download those by clicking the image/link above. Below, you will find an index of some very helpful information to assist you in learning more about the Houston suburbs. If you are relocating to our neck of the woods, we hope you reach out to us, because we would love to help you by being your local realtor and friend. Thoughtfully written for you. Hugs, Jo.
We are Waiting for You
If you are looking to relocate to the Houston Area, we would love to meet you, and hear your story. Below you will find all of my contact information, as well as some homes for sale in the area. We truly look forward to hearing from you! P.S. Don't forget to check out our YouTube Channel!

If you are overwhelmed..
Now if you are feeling overwhelmed on where you should plant your roots, I would love to talk to you. You can schedule a call with me by click this link: http://byjoandco.com/call or just send us an email: jordan@byjoandco.com. There are some amazing communities all over the Houston suburbs. In this post, https://search.byjoandco.com/blog/best-neighborhoods-in-houston/, I deep dive into all the different suburbs/neighborhoods that you might want to consider, and why. There are many resources here, so please reach out if you are curious what to look at next! Thank you for trusting us.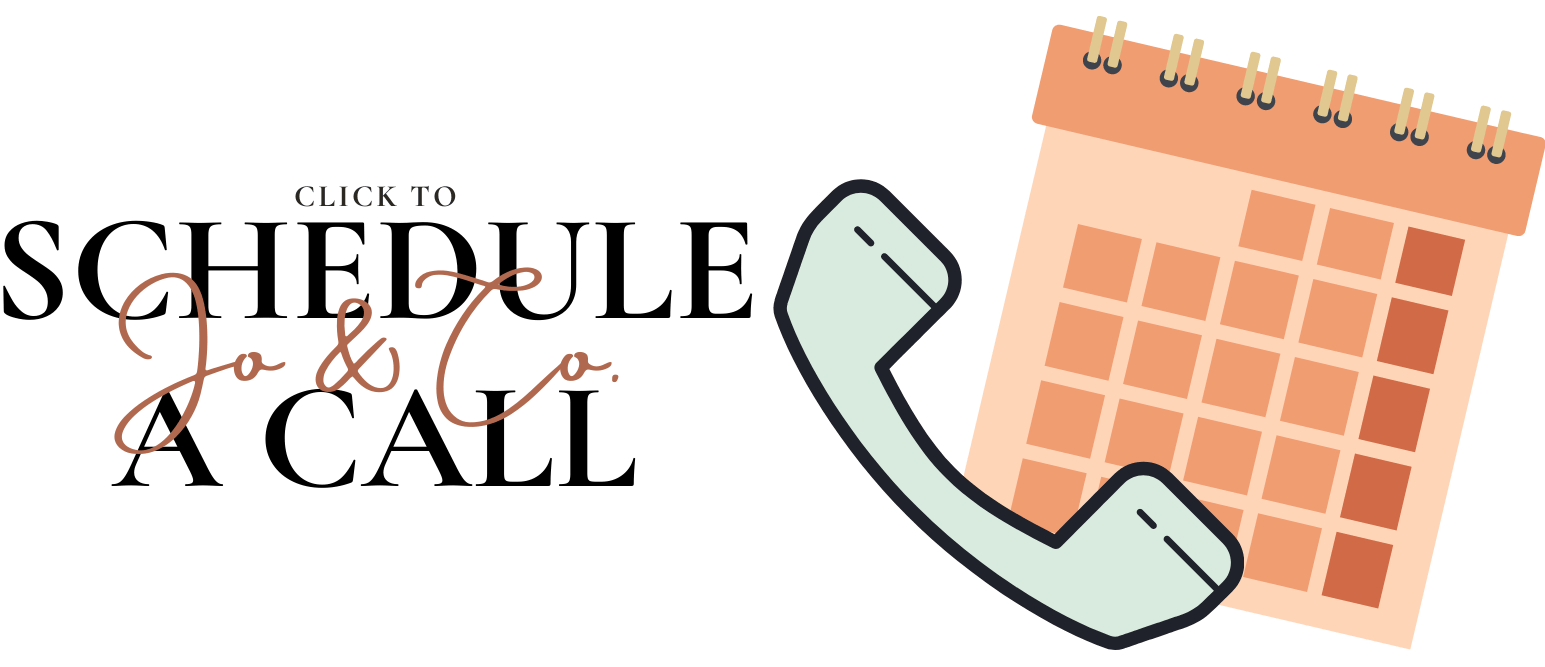 What next?!
• Navigate our Blog: https://byjoandco.com/categories-to-help-you-navigate-the-blog/
• Download our Moving to Texas ebook! http://byjoandco.com/movingtotexasebook.
• Download our Where to Live in Houston Texas ebook! http://byjoandco.com/wheretoliveebook.
• Browse our Ebooks and Relocation Guides: http://byjoandco.com/ebooks
• Schedule a phone call or appointment with us! http://byjoandco.com/appointment.
• Email us! Jordan@byjoandco.com.
• Looking for a buyer's agent? Fill out our buyer questionnaire! http://byjoandco.com/q.
• Ready to find your dream home? Search, http://search.byjoandco.com.
• Subscribe to our YouTube Channel: http://byjoandco.com/youtube.